**Class Postponed**Change The World**Class to be Rescheduled.
EmpowerU Studio at Frame USA
225 Northland Blvd
Cincinnati, Ohio 45246

Tuesday, November 14, 2017

This Class has Been Postponed–Will be Rescheduled in the Spring–Sorry for Any Inconvenience!
Judge Heather Russell's CHANGE Court treats people caught up in the web of human trafficking as victims rather than criminals. Learn how this CHANGE court is literally saving lives by helping rather than incarcerating these less fortunate among us! Judge Russell addresses the trauma, homelessness, mental and physical health of CHANGE prostituted persons, most of whom are also fighting addiction.  During the two year program, CHANGE Court graduates gain housing, jobs, self-esteem and sobriety, they re- connects with their families and reclaim their lives. CHANGE court is a judge-supervised treatment program for those changed with prostitution and related offenses in Hamilton County.  It is voluntary and includes regular court appearances before the CHANGE court judge.  The participants work with a team of professionals to improve like and work skills to successfully stay out of the criminal justice system.
Judge Heather Russell attended Walnut Hills High, Miami U and UC College of Law.  She was an Assistant Hamilton County Prosecuting Attorney from 1984-2001, where she was the first female team leader in the major crimes division.  Heather prosecuted many adult and child sexual assault cases and homicides, including 6 capital murder cases. In 1999 she was appointed Chief Assistant of the Hamilton County Grand Jury and was also elected to Loveland City Council. In  2001 she was elected to the Hamilton County Municipal Court, where she has continuously served since then.  Throughout her judicial career Judge Russell has been involved in domestic violence issues on the city, county and state levels, serving at Chief Justice O'Connor's appointment for 6 years on the Ohio Supreme Court Domestic Violence Advisory Committee.   Her peers have twice elected her to serve as presiding and administrative judge, acting as the voice of the 14 judges of the Hamilton County Municipal Court.  She presided over a Mental Health specialty docket until 2015, when she turned that docket over to another judge so that she could devote more time to CHANGE Court. In 2014, two Cincinnati police officers asked Judge Russell to create a program for the heroin addicted prostitutes around West McMicken St, in Cincinnati, which led Judge Russell to combine her experiences in a victim-centered career and a Mental Health Court to create CHANGE Ct.  Judge Russell has been married for 32 years; she and her husband have raised two grown sons.  She enjoys scoring baseball and speaking French (tho not at the same time,) travel, reading, gardening and aerobics.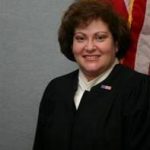 Judge Heather Russell