Canine Companions
EmpowerU Studio at Frame USA
225 Northland Blvd
Cincinnati, Ohio 45246

Thursday, September 21, 2017

To View a Complete Recording of This Class Click Here
Learn just how true "A Dog is a Man's Best Friend" is!!!
Meet these amazing Canine Companions and learn firsthand how they enrich and bring love into the lives of children, adults and veterans with a disability.  Do not miss this very special Empower U!
Canine Companions for Independence is a national nonprofit with six regional training centers across the country. The North Central Region is located in Central Ohio and supports 14 states. Canine Companions provides highly trained assistance dogs to children, adults and veterans who have a disability. The dogs, their training and all follow up services are provided free of charge to each recipient. The value of each human and assistance dog team is $50,000 based from the birth of the dog through the retirement of the human and assistance dog team. The dogs complete task based commands, such as picking up dropped items or opening and closing doors to increase the independence for the recipient. To learn more about Canine Companions please visit www.cci.org
DogFest Walk 'n Roll is the national signature event for Canine Companions. It is a family friendly event that includes a walk and activities to engage all ages and pet dogs too! DogFest Cincinnati will take place Sunday, October 8 at the Voice America Park from 1 pm – 4 pm. To learn more about DogFest Cincinnati please visit www.cci.org/dogfestcincinnati
As a Registered Advocate with Senior Standing, Cynthia has over 29 years of experience working in the field of victim advocacy, child abuse/neglect and crisis response. She served as the Program Coordinator and Forensic Interviewer of Michael's House Child Advocacy Center, in Greene County, for 6 years and introduced the first facility dog in Ohio, working within the criminal justice system, during her tenure there.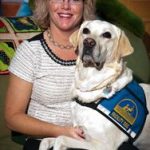 Cynthia