Empower U partners with the Ohio Attorney General to present Sunshine Laws State Certification Training
EmpowerU Studio at Frame USA
225 Northland Blvd
Cincinnati, Ohio 45246

Thursday, March 29, 2018

**THIS CLASS IS SOLD OUT** Sorry!  We are trying to arrange a 2nd Session for this Class, but this is left up to the Attorney General.   Please check back on this website.
Empower U partners with the Ohio Attorney General to present Sunshine Laws Certification Training
If you are interested in obtaining this certification Empower U is providing an opportunity for you to do so locally.   
The Sunshine Laws Certification Training, provided by the Ohio Attorney General's Office, is a three-hour certification training session provided to all elected officials, and/or their appropriate designees, as well as members of the general public.
Ohio Revised Code Section 109.43(B) states:
The attorney general shall develop, provide, and certify training programs and seminars for all elected officials or their appropriate designees in order to enhance the officials' knowledge of the duty to provide access to public records as required by section 149.43 of the Revised Code.  The training shall be three hours for every term of office for which the elected official was appointed or elected to the public office involved.
Each session includes an in-depth analysis of Ohio's Public Records Act, with a brief discussion of Ohio's Open Meetings Act.
You can also find more information about the class by going to:
http://www.ohioattorneygeneral.gov/Files/Briefing-Room/Events/Legal-Events/Sunshine-Laws-Training/2018-Sunshine-Laws-Certified-Training-Springdale
Speaker Bio:
Renata Y. Staff joined the Attorney General's Office in September 2010 and represents state agencies and statewide officeholders in both state and federal court.  Renata has orally argued in front of the U.S. Sixth Circuit Court of Appeals.  Renata's current clients include the Capitol Square Review and Advisory Board, the Ohio General Assembly, the Ohio Judicial Conference, the Supreme Court of Ohio, and the Treasurer of State of Ohio.
Renata is also a member of the office's Public Records Unit.  As a member of the Unit, she counsels state agencies and state employees on compliance with Ohio's Public Records Act and travels throughout the State presenting CLEs on Ohio's Public Records and Open Meetings Acts. Renata is also a member of the office's Diversity Committee and volunteers with the Office's Pro Bono Seniors Program.
**Renata Y. Staff works in the office of Mike DeWine(pictured)**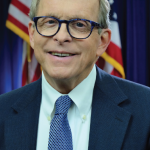 Mike DeWine