The Man Behind The Uniform
Historic Train Tracks At Glendale Square
30 Village Square
Glendale, Ohio 45246

Wednesday, September 27, 2017

Join us for a what promises to be a unique experience.  You will think you are with the General Himself !
Curt Fields – a living historian  will transport us back in time with his uncanny ability to  the audience feel  they are with the General himself.   He's the spitting image of U.S. Gen. Ulysses S. Grant,  In his cavalry-style slouch hat, blue wool sack coat, mud-splattered boots, dark beard  and ever-present cigar, he'll make a  believer out of anyone. "I'm not a re-enactor. I don't appear in combat at staged skirmishes," he said. "I'm what's known as a living historian. I talk to folks in first person." To channel Grant's philosophies, manner of speech and life experiences ,he  pores over Grant's memoirs and consults secondary source material left by those who personally knew the general, who also became the 18th president of the U.S.
Fields' life-long interest in the American Civil War and his admiration for General Ulysses S. Grant is the background for his dramatic portrayal of the famous general to groups all over the United States as well as foreign audiences.  Fields is the same height and build as General Grant and his presentation is given in the first person, quoting from Grant's memoirs and letters.
We will meet at the Historic Train Tracks in Glendale to start the program and then walk about 1/2 block to the H.W.B. Scout House where the rest of the program will take place.  The H.W.B. Scout House is located  west of Bob Ronker's Running Spot at 267 E. Sharon Road, 45246 and right next to the small Glendale chapel.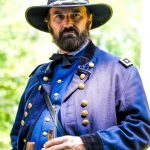 Curt Fields