If you are concerned about a free and fair election touring the Board of Elections may be just what you need to reinforce confidence.
Hamilton County Board of Elections
4700 Smith Rd.
Cincinnati, Ohio 45212

Thursday, April 7, 2022

This Class is Full at Maximum Capacity, Thank You For Your Interest
On a tour of the Board of Elections facility in Norwood, you will get a first-hand look at how election officials administer elections in Hamilton County. You will see how the ballot is created, from petition-filing, to board certification, programming, proofing, and printing. You will learn how The BOE organizes, stores, and tests thousands of pieces of equipment that must be delivered to and from hundreds of polling locations throughout Hamilton County.
Whether it is the recruiting and training of over 2,000 poll workers, running the early vote center, conducting audits, or maintaining an accurate voter registration database with almost 600,000 voters, the work of running elections continues beyond election day, and this tour will show you how election officials work year-round to deliver free and fair elections in Hamilton County.  There will be time for Q&A, plus a mock election.
This is an On-Site Class only at the Hamilton County Board of Elections, meet in the front lobby, main entrance is off of Wall St, look for the 3 large flag poles.
Speaker's Bios: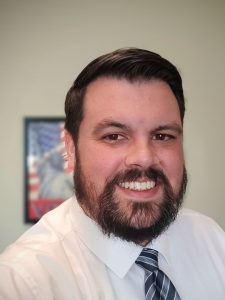 Alex Linser is the Deputy Director of the Hamilton County Board of Elections. He is responsible for administering free and fair elections for Hamilton County's 580,000+ registered voters. He is a licensed attorney with experience in business, litigation, government & administrative law. Prior to joining the Board of Elections,  Linser's public service included leadership on issues ranging from child poverty to equitable development to the addiction epidemic. Linser has served on the board of several civic nonprofit organizations and is a graduate of the University of Cincinnati. In 2010, he received his law degree from the University of Cincinnati's College of Law. He currently lives in Mt. Washington with his wife Joanna and their seven children.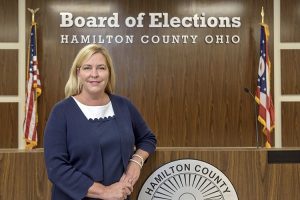 Sherry Poland was appointed Director of the Hamilton County Board of Elections in June of 2014.  She began her career with the board in March of 2004. She is responsible for administering all local, state, and federal elections that occur in Hamilton County, along with the day-to-day operations of the board.  Ms. Poland is a member of the U.S. Elections Assistance Commission Local Leadership Council, serves as the Vice President of the Ohio Association of Elections Officials, and as a member of the Bipartisan Policy Center's Task Force on Elections.  She is a graduate of Mount St. Joseph University.  She and her husband live in Cincinnati and have two daughters.